Situaciones laborales que generan estrés en los veterinarios
Palabras clave:
Professional burnout, Occupational stress, Veterinary medicine
Resumen
Los veterinarios se enfrentan con frecuencia a traumas, dolor, sufrimiento y muerte en su trabajo, por lo que están sometidos al desgaste profesional. Por ello, este estudio pretendía identificar los acontecimientos que generan estrés en estos profesionales. Para ello, se realizó una investigación cualitativa con 123 trabajadores de la medicina veterinaria, que prestaban asistencia directa a los pacientes en la ciudad de Santa Maria/RS, a través de un cuestionario abierto administrado en línea entre junio y julio de 2021. Los resultados muestran que las situaciones de trabajo que generan estrés entre los veterinarios están asociadas a la sobrecarga de trabajo, la presión de los gerentes y empleadores, la desvalorización profesional, los problemas de relación con los colegas y las dificultades en el trato con los tutores. En cambio, pocos trabajadores han desarrollado tácticas personales para afrontar el estrés laboral. La identificación de estas situaciones es esencial para el desarrollo de estrategias en busca de mejores condiciones de trabajo y calidad de vida profesional entre los veterinarios.
Citas
Ângelo, R. P., & Chambel, M. J. (2013). The reciprocal relationship between work characteristics and employee burnout and engagement: a longitudinal study of fire fighters. Stress and Health, 31(2), 106-114. https://doi.org/10.1002/smi.2532
Barbosa, K. P., Silva, L. M. S., Fernandes, M. C., Torres, R. A. M., & Souza, R. S. (2009). Processo de trabalho em setor de emergência de hospital de grande porte: a visão dos trabalhadores de enfermagem. Rev Rene, 10(4), 70-76. https://www.redalyc.org/articulo.oa?id=324027968008
Bardin, L. (2016). Content analysis. Edições 70.
Benevides-Pereira, A. M. T. (2002). Burnout: o processo do adoecer pelo trabalho. In A. M. T. Benevides-Pereira (Org.), Burnout: quando o trabalho ameaça o bem-estar do trabalhador. (1st ed., pp. 21-91). Casa do Psicólogo.
Cevizci, S., Babaoğlu, Ü. T., Serpen, A., Yılmaz, O., Boyar, H., & Celikel, S. (2014). Occupational stress and risk factors in veterinary surgeons. Kafkas Univ Vet Fak Derg, 20(1), 41-48. https://doi.org/10.9775/kvfd.2013.9426
Erdenk, N., & Altuntaş, S. (2017). Do personality traits of nurses have an effect on conflict management strategies? Journal of Nursing Management, 25(5), 366-374. https://doi.org/10.1111/jonm.12474
Fontana, R. T. (2010). Humanização no processo de trabalho em enfermagem: uma reflexão. Rev Rene, 11(1), 200-207. https://www.redalyc.org/articulo.oa?id=324027969019
Frank, A. C. (2018). Síndrome de burnout na medicina veterinária. Boletim Apamvet, 9(3), 6-7. https://publicacoes.apamvet.com.br/PDFs/Artigos/76.pdf
Gardner, D. H., & Hini, D. (2006). Work-related stress in the veterinary profession in New Zealand. New Zealand Veterinary Journal, 54(3), 119-124. https://doi.org/10.1080/00480169.2006.36623
Hansez, I., Schins, F., & Rollin, F. (2008). Occupational stress, work-home interference and burnout among Belgian veterinary practitioners. Irish Veterinary Journal, 61(4), 1-9. https://doi.org/10.1186/2046-0481-61-4-233
Heloani, R., & Lancman, S. (2004). Psicodinâmica do trabalho: o método clínico de intervenção e investigação. Production, 14(3), 77-86. https://doi.org/10.1590/S0103-65132004000300009
International Labour Office. (2012). Stress prevention at work checkpoints: Practical improvements for stress prevention in the work place. International Labour Office. https://www.ilo.org/global/publications/books/WCMS_168053/lang--en/index.htm
Johansen, M. L., & Cadmus, E. (2016). Conflict management style, supportive work environments and the experience of work stress in emergency nurses. Journal of Nursing Management, 24(2), 211-218. https://doi.org/10.1111/jonm.12302
Knesl, O., Hart, B. L., Fine, A. H., Cooper, L., Patterson-Kane, E., Houlihan, K. E., & Anthony, R. (2017). Veterinarians and humane endings: when is it the right time to euthanize a companion animal? Frontiers in Veterinary Science, 4, 45. https://doi.org/10.3389/fvets.2017.00045
Lancman, S., & Sznelwar, L. I. (2011). Christophe Dejours: da psicopatologia à psicodinâmica do trabalho (3rd ed.). Editora Fiocruz.
Lundgrén-Laine, H., Kontio, E., Perttilä, J., Korvenranta, H., Forsström, J., & Salanterä, S. (2011). Managing daily intensive care activities: An observational study concerning ad hoc decision making of charge nurses and intensivists. Critical Care, 15(4), 1-10. https://doi.org/10.1186/cc10341
McKibben, L. (2017). Conflict management: importance and implications. British Journal of Nursing, 26(2), 100-103. https://doi.org/10.12968/bjon.2017.26.2.100
Mendes, A. M., & Ferreira, M. C. (2008). Contexto de trabalho. In M. M. M. Siqueira (Org.), Medidas do comportamento organizacional: ferramentas de diagnóstico e gestão (pp. 111-123). Artmed.
Meneghini, F., Paz, A. A., & Lautert, L. (2011). Fatores ocupacionais associados aos componentes da síndrome de Burnout em trabalhadores de enfermagem. Texto & Contexto Enfermagem, 20(2), 225-233. https://doi.org/10.1590/S0104-07072011000200002
Nett, R. J., Witte, T. K., Holzbauer, S. M., Elchos, B. L., Campagnolo, E. R., Musgrave, K. J., Carter, K. K., Kurkjian, K. M., Vanicek, C. F., O'Leary, D. R., Pride, K. R., & Funk, R. H. (2015). Risk factors for suicide, attitudes toward mental illness, and practice-related stressors among US veterinarians. Journal of the American Veterinary Medical Association, 247(8), 945-955. https://doi.org/10.2460/javma.247.8.945
Pagliari, J., Collet, N., Oliveira, B. R. G., & Viera, C. S. (2008). Sofrimento psíquico da equipe de enfermagem na assistência à criança hospitalizada. Revista Eletrônica de Enfermagem, 10(1). https://doi.org/10.5216/ree.v10i1.7682
Papathanassoglou, E. D. E., Karanikola, M. N. K., Kalafati, M., Giannakopoulou, M., Lemonidou, C., & Albarran, J. W. (2012). Professional autonomy, collaboration with physicians, and moral distress among European intensive care nurses. American Journal of Critical Care, 21(2), e41-e52. https://doi.org/10.4037/ajcc2012205
Reis, C. T., Martins, M., & Laguardia, J. (2013). A segurança do paciente como dimensão da qualidade do cuidado de saúde: um olhar sobre a literatura. Ciência & Saúde Coletiva, 18(7), 2029-2036. https://doi.org/10.1590/S1413-81232013000700018
Rodrigues, D. P., Athanázio, A. R., Cortez, E. A., Teixeira, E. R., & Alves, V. H. (2013). Stress in the intensive care unit: integrative review. Revista de Enfermagem UFPE on line, 7(5), 1595-1604. https://doi.org/10.5205/1981-8963-v7i5a11651p4217-4226-2013
Rosenstein, A. H. (2012). Physician stress and burnout: prevalence, cause, and effect. AAOS Now, 6(8), 31-34. http://www.physiciandisruptivebehavior.com/admin/articles/31.pdf
Shinan-Altman, S., Werner, P., & Cohen, M. (2016). The connection between illness representations of Alzheimer's disease and burnout among social workersand nurses in nursing homes and hospitals: a mixed-methods investigation. Aging & mental health, 20(4), 352-361. https://doi.org/10.1080/13607863.2015.1008983
Silva, L. C., & Salles, T. L. A. (2016). O estresse ocupacional e as formas alternativas de tratamento. Revista de Carreiras e Pessoas, 6(2). https://doi.org/10.20503/recape.v6i2.29361
Stembert, F. M., Lipman, L. J., & Loomans, J. B. (2003). Veterinarian: a healthy profession? Tijdschrift voor diergeneeskunde, 128(18), 565-569, 2003. https://europepmc.org/article/med/14535074
Urbanetto, J. de S., Silva, P. C. da, Hoffmeister, E., Negri, B. S. de, Costa, B. E. P. da, & Figueiredo, C. E. P. de. (2011). Workplace stress in nursing workers from an emergency hospital: Job Stress Scale analysis. Revista Latino-Americana de Enfermagem, 19(5), 1122-1131. https://doi.org/10.1590/S0104-11692011000500009
Wang, W., Lopez, V., Chow, A., Chan, S. W.-C., Cheng, K. K. F., & He, H.-G. (2014). A randomized controlled trial of the effectiveness of a self-help psychoeducation programme on outcomes of outpatients with coronary heart disease: study protocol. Journal of Advanced Nursing, 70(12), 2932-2941. https://doi.org/10.1111/jan.12397
Zani, G. L., Rosa, C. L., & Machado, M. A. (2020). Sindrome de Burnout e a fadiga da compaixão: das vulnerabilidades dos profissonais de veterinária. Brazilian Journal of Development, 6(1), 4107-4123. https://doi.org/10.34117/bjdv6n1-292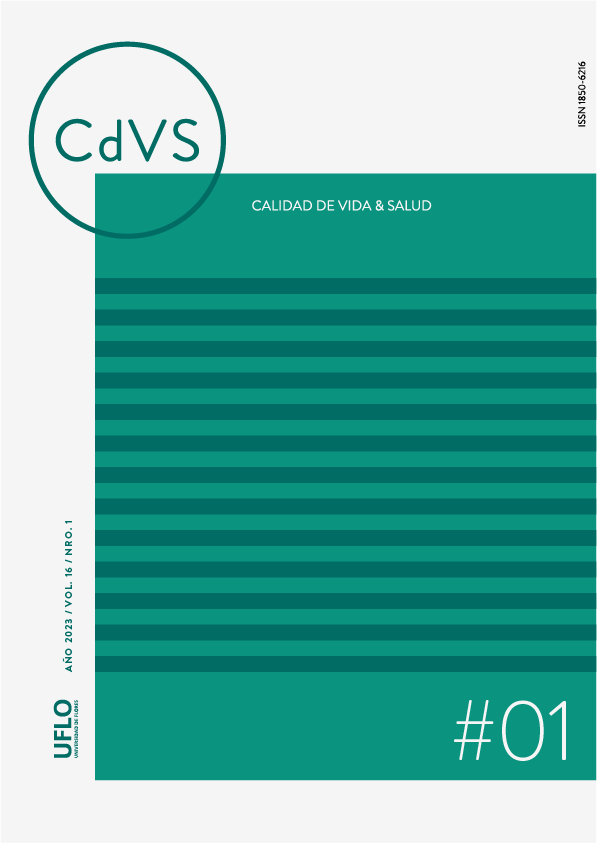 Cómo citar
Alvez Veleda, P. (2023). Situaciones laborales que generan estrés en los veterinarios. Calidad De Vida Y Salud, 16(1), 87-96. Recuperado a partir de http://revistacdvs.uflo.edu.ar/index.php/CdVUFLO/article/view/359
Derechos de autor 2023 Patricia Alvez Veleda
Esta obra está bajo una licencia internacional Creative Commons Atribución-NoComercial-CompartirIgual 4.0.
Los autores que publican en esta revista están de acuerdo con los siguientes términos:
Los autores conservan los derechos de autor y garantizan a la revista el derecho de ser la primera publicación del trabajo al igual que licenciado bajo una Creative Commons Attribution License que permite a otros compartir el trabajo con un reconocimiento de la autoría del trabajo y la publicación inicial en esta revista.
Los autores pueden establecer por separado acuerdos adicionales para la distribución no exclusiva de la versión de la obra publicada en la revista (por ejemplo, situarlo en un repositorio institucional o publicarlo en un libro), con un reconocimiento de su publicación inicial en esta revista.
Se permite y se anima a los autores a difundir sus trabajos electrónicamente (por ejemplo, en repositorios institucionales o en su propio sitio web) antes y durante el proceso de envío, ya que puede dar lugar a intercambios productivos, así como a una citación más temprana y mayor de los trabajos publicados (Véase The Effect of Open Access) (en inglés).