Intervenciones asistidas con animales en pacientes con Esclerosis Múltiple
Palabras clave:
intervenciones asistidas con animales, equinoterapia, esclerosis múltiples, rehabilitación, terapia asistida con animales
Resumen
La esclerosis múltiple es una enfermedad desmielinizante que afecta principalmente a adultos jóvenes, caracterizada por presentar síntomas motores, sensitivos, visuales y cognitivos (entre otros), comprometiendo las distintas áreas de la vida de estas personas. Su tratamiento se orienta a la reducción del deterioro funcional del paciente y comprende un abordaje integrado por farmacología y neurorrehabilitación. Las intervenciones asistidas con animales han sido destacadas en las últimas décadas como abordajes complementarios con resultados prometedores en la rehabilitación de pacientes con enfermedades neurológicas, aunque las investigaciones sobre su eficacia en esclerosis múltiple son escasas. Se realizó una revisión de los estudios empíricos que incluyeran abordajes de intervenciones asistidas con animales en personas con esclerosis múltiple. Se encontraron seis estudios, la mayoría centrados en abordajes de equinoterapia. Estas investigaciones destacaron mejoras en los participantes en el área motora, principalmente respecto del equilibrio y la velocidad de la marcha. Asimismo, se destacó un efecto beneficioso sobre la calidad de vida de estas personas. Aunque se encontraron resultados favorables en la utilización de este tipo de intervenciones en personas con esclerosis múltiple, la bibliografía es escasa y es necesario realizar estudios más exhaustivos. Finalmente, se sugiere la realización de estudios que empleen intervenciones con perros y que evalúen su efecto sobre el funcionamiento cognitivo.
Citas
Ackerman, N., & Jahoda, M. (1950). Anti-Semitism and Emotional Disorder: A Psychoanalytical Interpretation. New York: Harper.
American Hippotherapy Association [AHA]. (2018). AHA, Inc. Terminology Guidelines. Disponible en https://americanhippotherapyassociation.org/wp-content/uploads/2019/02/AHA-Terminology-Final-12-2-18.pdf
Benedict, R. H., Wahlig, E., Bakshi, R., Fishman, I., Munschauer, F., Zivadinov, R., & Weinstock-Guttman, B. (2005). Predicting quality of life in multiple sclerosis: accounting for physical disability, fatigue, cognition, mood disorder, personality, and behavior change. Journal of the neurological sciences, 231(1-2), 29-34.
Berg, K. O., Wood-Dauphinee, S. L., Williams, J. I., & Maki, B. (1992). Measuring balance in the elderly: validation of an instrument. Canadian journal of public health, 83, S7-11.
Bronson, C., Brewerton, K., Ong, J., Palanca, C., & Sullivan, S. J. (2010). Does hippotherapy improve balance in persons with multiple sclerosis: a systematic review. Eur J Phys Rehabil Med, 46(3), 347-53.
Charry-Sánchez, J. D., Pradilla, I., & Talero-Gutiérrez, C. (2018). Animal-assisted therapy in adults: A systematic review. Complementary therapies in clinical practice, 32, 169-180.
Churchill, M., Safaoui, J., McCabe, B. W., & Baun, M. M. (1999). Using a therapy dog to alleviate the agitation and desocialization of people with Alzheimer's disease. Journal of psychosocial nursing and mental health services, 37(4), 16-22.
Cirulli, F., Borgi, M., Berry, A., Francia, N. y Alleva, E. (2011) Animal-assisted interventions as innovative tools for mental health. Ann Ist Super Sanità, 47(4), 341-348.
Fine, A. H. (Ed.). (2010). Handbook on animal-assisted therapy: Theoretical foundations and guidelines for practice. London: Academic Press.
Fjeldstad, C., & Pardo, G. (2017). Immediate effect of a service dog on walking speed in individuals with multiple sclerosis and gait dysfunction: a pilot study. International journal of MS care, 19(1), 40-41.
Fritz, C. L., Farver, T. B., Kass, P. H., & Hart, L. A. (1995). Association with companion animals and the expression of noncognitive symptoms in alzheimer's patients. The Journal of nervous and mental disease, 183(7), 459-463.
Hammer, A., Nilsagård, Y., Forsberg, A., Pepa, H., Skargren, E., & Öberg, B. (2005). Evaluation of therapeutic riding (Sweden)/hippotherapy (United States). A single-subject experimental design study replicated in eleven patients with multiple sclerosis. Physiotherapy theory and practice, 21(1), 51-77.
Kruger, K. A., & Serpell, J. A. (2010). Animal-assisted interventions in mental health: Definitions and theoretical foundations. En A. H Fine (Ed.), Handbook on animal-assisted therapy: Theoretical foundations and guidelines for practice (pp. 33-48). Academic Press.
Kubsik-Gidlewska, A. M., Klimkiewicz, P., Klimkiewicz, R., Janczewska, K., & Woldańska-Okońska, M. (2017). Rehabilitation in multiple sclerosis. Advances in clinical and experimental medicine: official organ Wroclaw Medical University, 26(4), 709-715.
Leist, T.P. (2014). Making Informed Decisions when Screening and Monitoring. Deconstructing Therapeutic Decision Making: An Expert Analysis of MS Treatment Options, Supplement of Neurology Reviews, S4-S8.
Lublin, F. D., & Reingold, S. C. (1996). Defining the clinical course of multiple sclerosis: results of an international survey. Neurology, 46(4), 907-911.
McCabe, B. W., Baun, M. M., Speich, D., & Agrawal, S. (2002). Resident dog in the Alzheimer's special care unit. Western journal of nursing research, 24(6), 684-696.
Moretti, M. (2019). Intervenciones asistidas con animales. Buenos Aires: Autores de Argentina.
Muñoz-Lasa, S., de Silanes, C. L., Atín-Arratibel, M. Á., Bravo-Llatas, C., Pastor-Jimeno, S., & Máximo-Bocanegra, N. (2019). Effects of hippotherapy in multiple sclerosis: Pilot study on quality of life, spasticity, gait, pelvic floor, depression and fatigue. Medicina Clínica (English Edition), 152(2), 55-58.
Muñoz-Lasa, S., Ferriero, G., Valero, R., Gomez-Muñiz, F., Rabini, A., & Varela, E. (2011). Effect of therapeutic horseback riding on balance and gait of people with multiple sclerosis. G Ital Med Lav Ergon, 33(4), 462-7.
Ochoa-Morales, A., Hernández-Mojica, T., Paz-Rodríguez, F., Jara-Prado, A., Trujillo-De Los Santos, Z., Sánchez-Guzmán, M. A., ... & Rivas-Alonso, V. (2019). Quality of life in patients with multiple sclerosis and its association with depressive symptoms and physical disability. Multiple sclerosis and related disorders, 36, 101386.
Polman, C. H., & Rudick, R. A. (2010). The multiple sclerosis functional composite: a clinically meaningful measure of disability. Neurology, 74(17 Supplement 3), S8-S15.
Rommer, P. S., Eichstädt, K., Ellenberger, D., Flachenecker, P., Friede, T., Haas, J. & Zettl, U. K. (2019). Symptomatology and symptomatic treatment in multiple sclerosis: Results from a nationwide MS registry. Multiple Sclerosis Journal, 25(12), 1641-1652.
Silkwood-Sherer, D., & Warmbier, H. (2007). Effects of hippotherapy on postural stability, in persons with multiple sclerosis: a pilot study. Journal of Neurologic Physical Therapy, 31(2), 77-84.
Tinetti, M. E., Williams, T. F., & Mayewski, R. (1986). Fall risk index for elderly patients based on number of chronic disabilities. The American journal of medicine, 80(3), 429-434.
Vermöhlen, V., Schiller, P., Schickendantz, S., Drache, M., Hussack, S., Gerber-Grote, A., & Pöhlau, D. (2018). Hippotherapy for patients with multiple sclerosis: A multicenter randomized controlled trial (MS-HIPPO). Multiple Sclerosis Journal, 24(10), 1375-1382.
Wollenweber, V., Drache, M., Schickendantz, S., Gerber-Grote, A., Schiller, P., & Pöhlau, D. (2016). Study of the effectiveness of hippotherapy on the symptoms of multiple sclerosis–Outline of a randomised controlled multicentre study (MS-HIPPO). Contemporary clinical trials communications, 3, 6-11.
Yamamoto, M., & Hart, L. A. (2019). Providing guidance on psychiatric service dogs and emotional support animals. In L. Kogan & C. Blazina (Eds.), Clinician's guide to treating companion animal issues (pp. 77-101). Academic Press.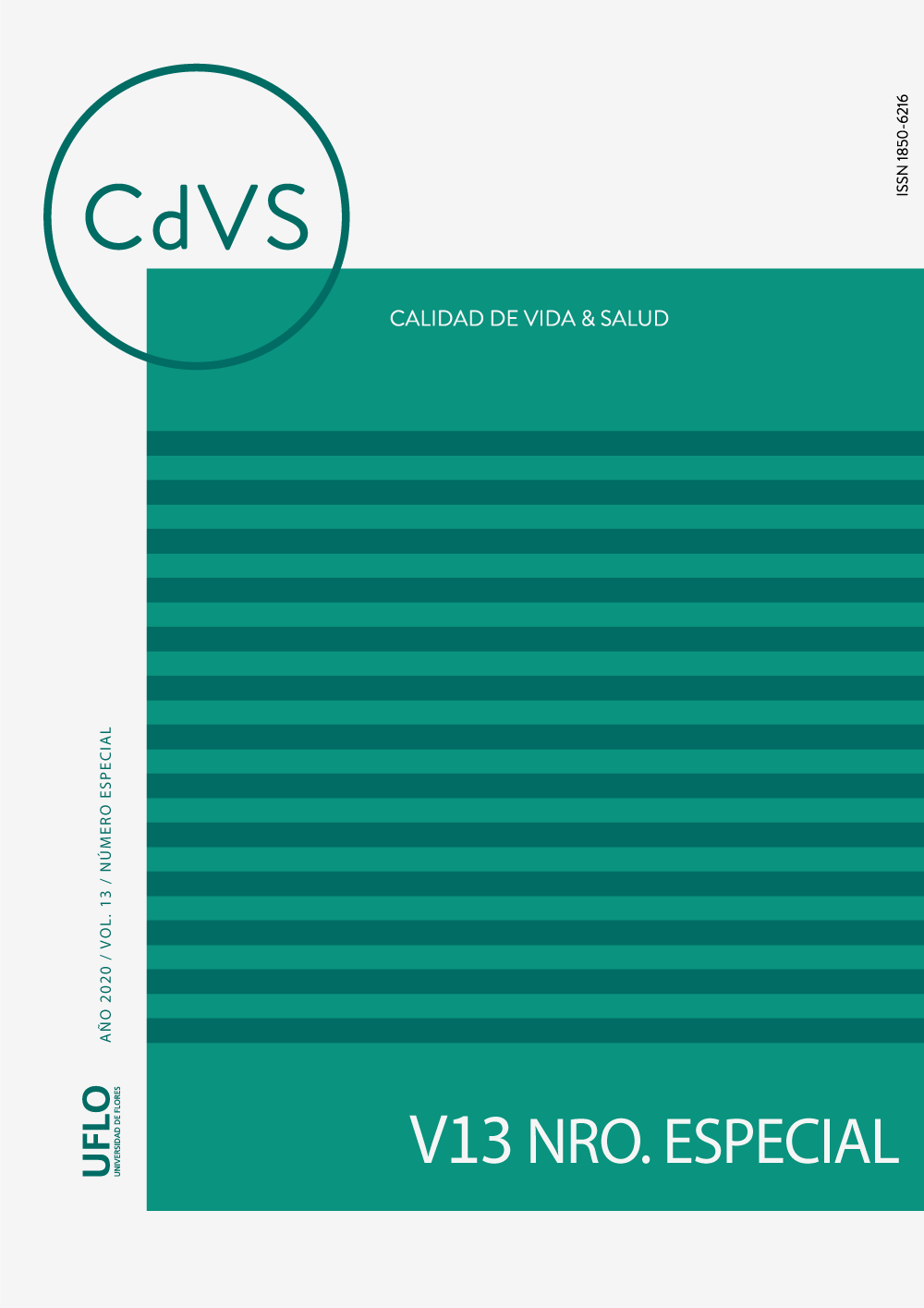 Cómo citar
Eizaguirre, B. ., Alonso, R. ., López , P. A. ., & Díaz Videla, M. . (2020). Intervenciones asistidas con animales en pacientes con Esclerosis Múltiple. Calidad De Vida Y Salud, 13(Especial), 175-183. Recuperado a partir de http://revistacdvs.uflo.edu.ar/index.php/CdVUFLO/article/view/293
Los autores que publican en esta revista están de acuerdo con los siguientes términos:
Los autores conservan los derechos de autor y garantizan a la revista el derecho de ser la primera publicación del trabajo al igual que licenciado bajo una Creative Commons Attribution License que permite a otros compartir el trabajo con un reconocimiento de la autoría del trabajo y la publicación inicial en esta revista.
Los autores pueden establecer por separado acuerdos adicionales para la distribución no exclusiva de la versión de la obra publicada en la revista (por ejemplo, situarlo en un repositorio institucional o publicarlo en un libro), con un reconocimiento de su publicación inicial en esta revista.
Se permite y se anima a los autores a difundir sus trabajos electrónicamente (por ejemplo, en repositorios institucionales o en su propio sitio web) antes y durante el proceso de envío, ya que puede dar lugar a intercambios productivos, así como a una citación más temprana y mayor de los trabajos publicados (Véase The Effect of Open Access) (en inglés).