An intervention protocol proposal to modify the body image disturbance using Virtual Reality
Resumen
A negative experience with one's own body has been theorized as a common antecedent of eating disorders (EDs). In fact, body image disturbance (BID) is considered a key factor in the development, maintenance and relapse of Anorexia Nervosa (AN). As yet, the mechanisms underlying this disturbance in body representation remain unclear. In this paper we present the study protocol of this novel Virtual Reality (VR) multisensorial paradigm to assess and treat BID. Participants will be asked to perform a real and virtual body size estimation task. Then, they will be assigned to one condition (experimental vs, control), and they will have to perform a task from 1st or 3rd point-of-view, in a counterbalanced manner. The "experimental" condition task consists of touching the real abdomen while looking at the virtual one. The "control" condition task consisted of making slow movements meanwhile looking at the virtual abdomen. Thereafter, participants will perform again the real and virtual body size estimation tasks. After ten minutes, they will perform the procedure from the other point-of-view (1st vs. 3rd). This protocol is intended to be an effective tool that allows the development of a more realistic corporal representation adjusted to the own body size.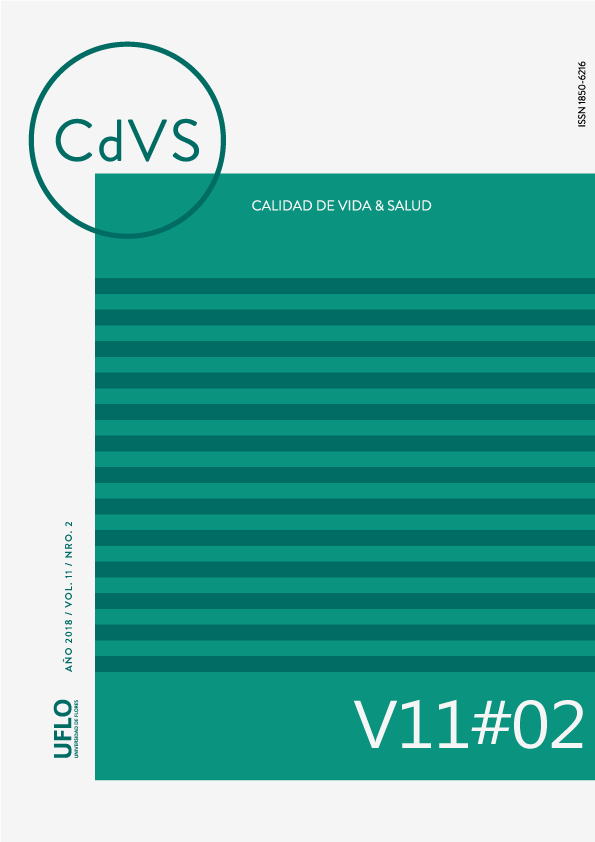 Cómo citar
Fonseca-Baeza, S., Corno, G., & Baños, R. M. (2018). An intervention protocol proposal to modify the body image disturbance using Virtual Reality. Calidad De Vida Y Salud, 11(2). Recuperado a partir de http://revistacdvs.uflo.edu.ar/index.php/CdVUFLO/article/view/164
Los autores que publican en esta revista están de acuerdo con los siguientes términos:
Los autores conservan los derechos de autor y garantizan a la revista el derecho de ser la primera publicación del trabajo al igual que licenciado bajo una Creative Commons Attribution License que permite a otros compartir el trabajo con un reconocimiento de la autoría del trabajo y la publicación inicial en esta revista.
Los autores pueden establecer por separado acuerdos adicionales para la distribución no exclusiva de la versión de la obra publicada en la revista (por ejemplo, situarlo en un repositorio institucional o publicarlo en un libro), con un reconocimiento de su publicación inicial en esta revista.
Se permite y se anima a los autores a difundir sus trabajos electrónicamente (por ejemplo, en repositorios institucionales o en su propio sitio web) antes y durante el proceso de envío, ya que puede dar lugar a intercambios productivos, así como a una citación más temprana y mayor de los trabajos publicados (Véase The Effect of Open Access) (en inglés).